Want to get more content publishing tasks accomplished while out and about? Here are the EXACT steps for posting content on your blogs from your phone – tips from Wordfeeder PLR.
Set your phone to network connection instead of wifi so you don't get hacked. (when you upload the images you may want to switch back to wifi so they load faster – or you can wait til later).

Log into your blogs and socials from your smart phone.

Log into your Wordfeeder member account and download the MS Word file you want to paste content from.

Go into the Files area of your phone's storage. Find the file you want, and "share" it to Google Drive.

Go back to the Files area and click the Word file to open. Google docs will load and open the document. Copy some or all of the text you plan to share.

Go back to your blog and create a new page or post. Flip to the Text side and paste in the content. Flip to the visual side and edit it, apply headline treatments, etc.

Don't forget a search engine friendly title AND SEO tooled category section.

Run over to Pexels .com to grab a quick pic to download. 

Go back to the blog post editing area and upload the image to either the post body itself, or the Featured Image section.

Edit and check everything. Add your short bio, call to action and link to upsells or affiliate products if applicable. 

Hit publish. 

Delete the MS Word file from your device to save room in storage and not suck up all the battery juice. 

Share the link to your new blog post on all your fave social spots.

You can also visit the post, copy and paste the entire thing, paste it into a new broadcast to send your email list, and then push send.
Now where will you get fast, good and economically priced content? From Wordfeeder PLR. 🙂
Wordfeeder is Running a 50% Sale on our PLR Memberships This Week.
Use coupon code FIFTYPERCENT to get these for half price. They're each regularly $11.97.
These articles can be edited and shared in your blog, socials, made into ebooks, lead magnets, courses, workshops, client teaching materials and newsletters to print or email out. They come with private label rights so you get to brand them as yours.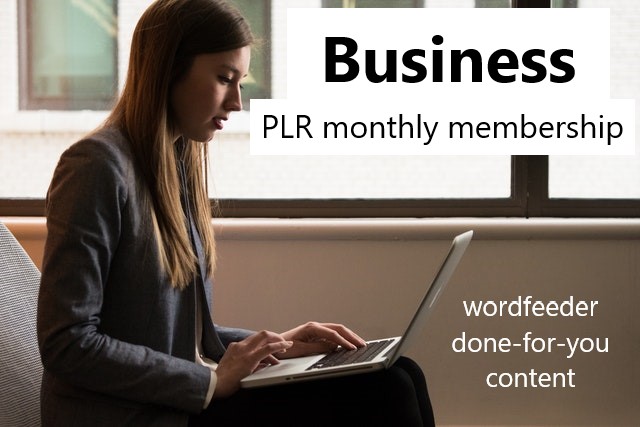 Thank you for your support. All the best with your online business endeavors.