Searching for a complete, pro quality workshop package designed to bring about a personal and professional transformation for your business and life coaching clients? Coach Glue creates exceptional quality done-for-you content. They also give generous discounts to their customers.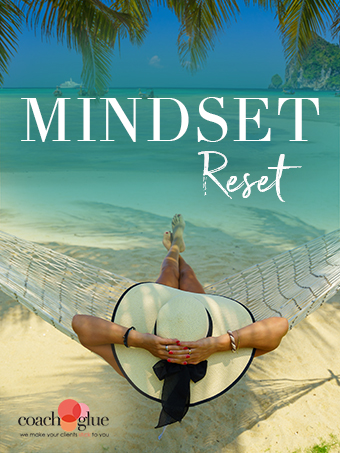 There's a short window of opportunity for you to make this workshop your own, put your brand on it, edit the content any way you like, and offer it as a group coaching course or to use in your one-on-one work with clients. All Coach Glue content can be repurposed to suit your professional goals as a coach.
What kind of business professional could launch this and offer to their list?
Business coaches | Transition coaches | Christian coaches | Life coaches |Transformation coaches | Marketing or Business Consultants | Writing Coaches | Creative Coaches | Success Coaches | Anyone who list-builds and works as a professional coach or online business expert of any kind.
This is a complete, ready-to-go coaching workshop with private label resell rights. Here's what's included:
4 Training Modules (43 pages, 12547 words)

Module 1: Ditch Everything (and Everyone) That Brings You Down
Module 2: Count Your Blessings
Module 3: Be Enthusiastically Authentic
Module 4: Build a Business You Can Love Again

Worksheets & Exercises (31 pages)
Checklists (20 pages)
PowerPoint Slides to Create Your Inspiring Webinars or Videos (111 slides)
4 Emails to Promote Both Your Live Webinar and the Replay of Your Webinar

Live Webinar Email Promo #1: Is your work/life balance non-existent? Let's fix that… (318 words)
Live Webinar Email Promo #2: Reminder…register for upcoming webinar! (312 words)
Program Email Promo #1: Work/life balance IS possible… (266 words)
Program Email Promo #2: Change your mindset, change your future… (299 words)

10 Social Media Posts to Promote Your Course on Facebook & Twitter
5 Blog Posts:

Outsource Your Way to Happiness (665 words)
Get Creative with Your Journaling! (625 words)
Define Your Happiness with a Vision Board (590 words)
Authenticity Check: Are You Delivering What You Promise or Just Pretending To? (635 words)
Don't Fall Victim to Toxic Clients (722 words)

Webinar Registration Copy that includes a description and bullet points for your webinar you can copy + paste to your own sign up page.
Webinar Script: 5 Steps to Greater Happiness in Life & Business (20 pages)
Webinar PowerPoint Slides (45 slides)
Handout to Give Your Webinar Guests: "5 Steps to Greater Happiness in Life & Business" (3 pages)
Sales Page Copy to Help You Sell Your Workshop
Coupon code: 77
Discount: Only $77 (Regularly $297)
Expires Wednesday March 30, at Midnight EST!
Missed this done-for-you content sale? We'll email you the next one. Sign up here