Searching for done-for-you coaching content? The great thing about Coach Glue is that when it comes to done-for-you coaching content that you can make into sellable courses and coachable client materials, they have something for all purposes and budgets. 

Their Daily Money-Making Planner Offer for 50% off Ends THURSDAY March 17, 2022. Here's an overview of the content: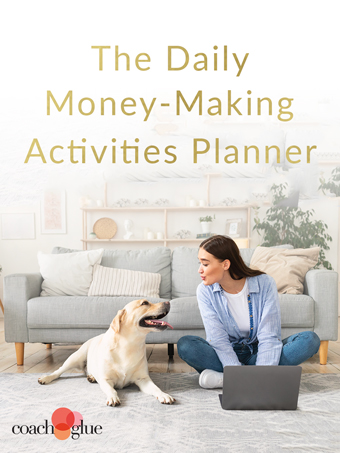 Step 1: Decide Which Activities Make Your Unique Business Boom
Step 2: Map Out Your Next (Major) Money-making Offer
Step 3: Craft Memorable, Must-Click Emails
Step 4: Create Compelling Content that Draws People Into Your Programs
Step 5: Create or Tweak an Existing Sales Page to Skyrocket Conversions
Step 6: Follow Up Frequently & Consistently Land New Clients (& Cash!)
50% Off with Promo Code: 50
Expires Thursday, March 17, 2022 at Midnight EST!
Missed this offer? We'll email you the next one. Sign up here